Tips for Online Learning
CREATING A LEARNING SPACE FOR ONLINE MUSIC CLASSES:
1. Find a space large enough for you to move freely with your child.
2. Clear away clutter, toys, and other visual distractions. Visual stimuli will overshadow a child's ability to listen, and we want to engage those listening ears!
3. Keep instruments for class in a box or basket, ideally out of reach and out of sight except for music times. Their appearance will signal that it is time for this special activity that you share.

4. Be present with your child for the class. Model participation! Engage your inner child!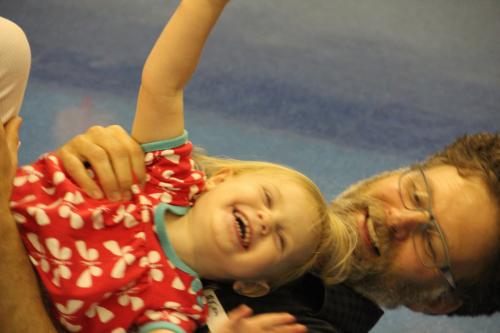 COMPUTER PLACEMENT:

1. If possible, use a laptop rather than your phone.

2. Camera should be placed so that child is lighted from above or from the front (i.e., the child faces the window rather than the camera).

3. A laptop at arm's length is best for a child's viewing. The parent can control the mute button, and the child can have the teacher in view without being too far back to create a distraction.

4. Use "speaker view" so teacher is on the majority of the screen. This is especially important for children under 4.

5. Place the computer on a box, the floor, a step stool, or a short table. The camera needs to be approachable for the child so that s/he can interact closely with the teacher.

6. If needed, cover the computer keyboard with a piece of paper taped to the sides. Avoid using a blanket or cloth as this could cause the computer to overheat.